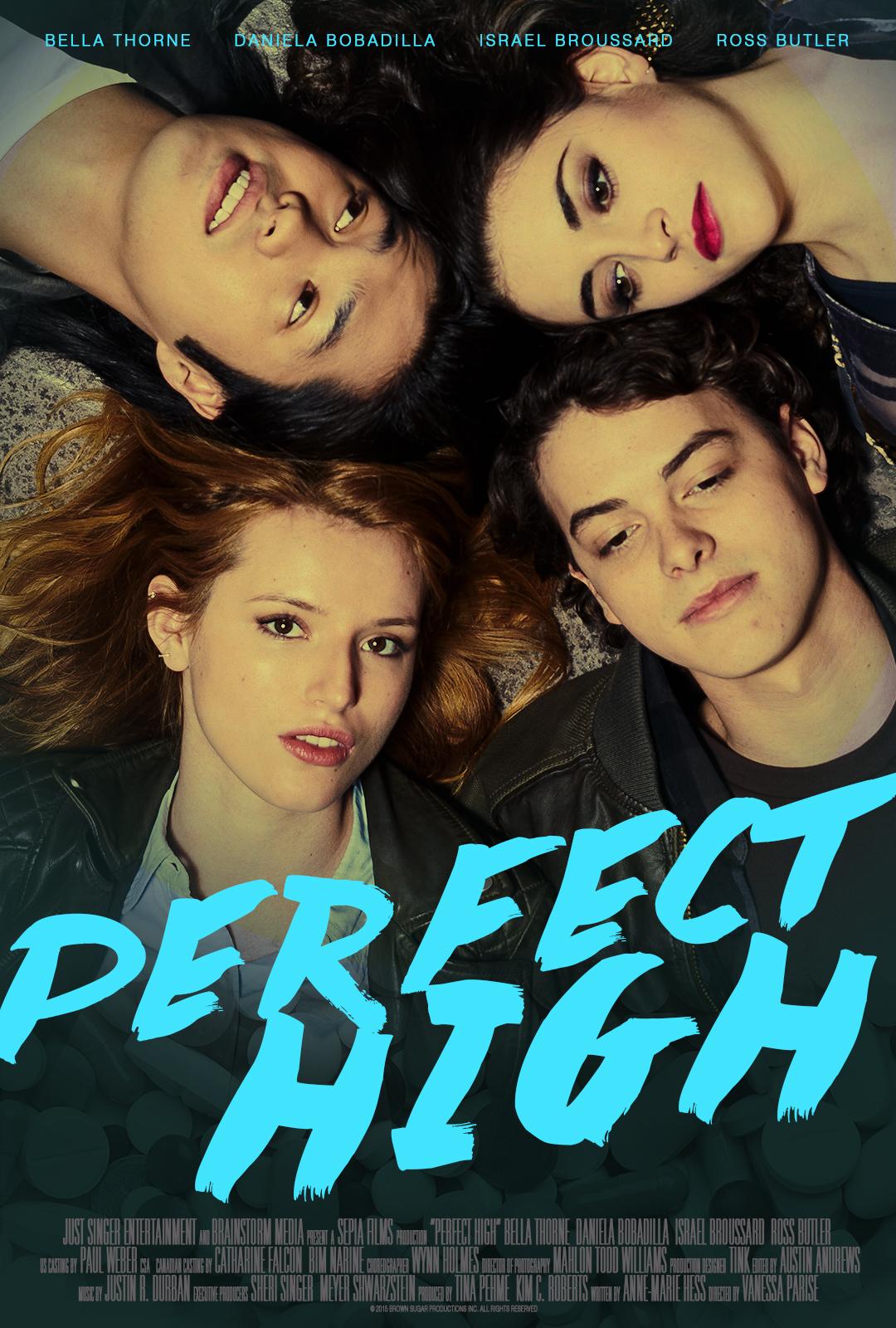 Last night, Perfect High premiered on Lifetime, and there were several reasons why I decided to check it out. First, it was lead actress Bella Thorne's edgiest role to date, and as I've been lucky enough to encounter and interview the star at many points in my career, I had to support her project. Then, I've heard a lot of buzz surrounding another lead actor in the film, Ross Butler, who has also recently appeared in Disney Channel's Teen Beach 2 and my personal guilty-pleasure TV show, K. C. Undercover. Finally, it's a Lifetime movie, which is guaranteed to be equal parts overdramatic and crazy, which is exactly my kind of Saturday night. 
The story follows a group of teens who find themselves quickly getting out of control with their drug use. It all started when Bella's character, Amanda, injures herself in a school dance routine performance and starts taking hardcore painkillers. The combination of her gradual addiction to the prescription meds and her desire to fit in with a new friend group who keeps hitting her up to share her pills leads her to get even more carried away with her using until she finds her body entirely dependent on medications. The group accidentally gets slipped some heroin, and they find themselves addicted before they even know what they're taking.
I was surprised to see that the movie didn't hold back on anything. There was no moment too gritty, too shocking, or too real to showcase. I was actually shocked to see how in-your-face the drug use scenes were: they were the kinds of scenes you'd expect to see in a rough indie flick and not a TV movie during primetime. But it didn't come across as gratuitous or just for the sake of being shocking and edgy. Instead, it really accentuated how quickly someone can fall under the spell of a friend group or a wildly addictive substance. Bella did a great job portraying the good-girl-gone-rogue, and the movie had overarching teaching moments without being in your face about the life lessons.
Of course, it wouldn't be a Lifetime movie without there being over-the-top and far-fetched ridiculous moments. The characters' parents are almost comically uninvolved with their lives (just to accentuate the point that teens left to their own devices will get in heaps of trouble) and too many adults and school officials turned a blind eye to the teens' out-of-character actions and shrinking bodies. But I didn't find these stray details to be too distracting, and I still enjoyed the story.
If you get a chance to watch it, make sure to circle back and let us know what you think!