Project Runway Season 10 winning designer Dmitry Sholokhov couldn't be nicer, more talented, or more driven. So we're beyond stoked that his gorgeous collection is finally (!) available at Lord & Taylor! Powerful, feminine silhouettes and graphic optical illusions define his latest creations, a debut dress line from JS Collections that is exclusively available at Lord & Taylor. Trust me, you're going to want to get in on this one.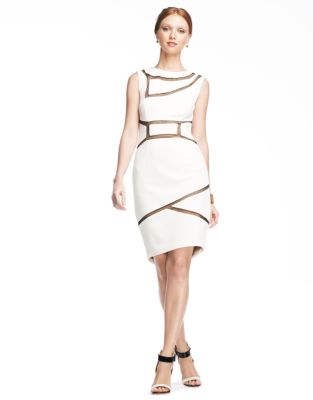 Laser-cutouts, mesh shoulder detailing, and crisp blush tones make Dmitry's collection ever so covetable. The best part of his line is that his design aesthetic was not compromised as the collection went from runway to stores. Though the pieces are incredibly wearable, they do not lose any of that original creative spark that lit up Dmitry's winning runway show. This white laser-cut dress has an amazing floating quality to it — and it was ripped right off the runway catwalk and is now ready to wear!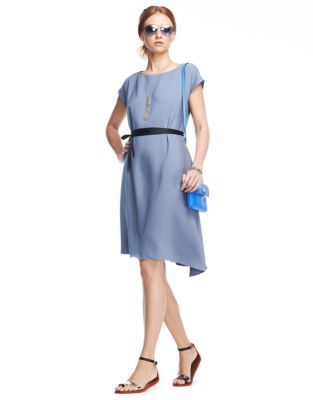 Lightweight and impeccably draped, these dresses are as perfect for springtime romps through the park as they are work-appropriate and dressy. When can you ever score that winning combination? I'm already visualizing myself on vacation wearing the Grey Side Drape Crepe Dress.
Even if you are not a die-hard Project Runway fan, you've got to admit that Dmitry's victory was one of the show's most well-deserved. He put all of his energy into making this well thought out collection instead of getting caught up in the show's notorious drama, pettiness, or trash-talking. This devotion to workmanship really shows in these dresses' fine details and fit.
Did you think I'd let you get away without checking out my super awesome posed pic with Dmitry himself?! Of course not! It's just not my style! I met Dmitry at the Project Runway Teams finale runway show at New York Fashion Week!
Make sure to check out Dmitry's designs at Lord & Taylor while you can — they're selling out even as I'm writing this story! Best of luck, fashionistas!