The official sign that you're (mostly) grown up is when you have graduated to buying your skater shoes at J. Crew. Right? The J. Crew Washed Canvas Authentic Sneakers are a preppy new update to your favorite classic lace-ups. This clever unisex design will look just as put together on you as it will your guy. Get all the details on these easy sneaks, right here!
In my world of having problems-that-aren't-actually-problems, I always complain about how my favorite high school checkered Vans clash with my infinitely more grown up work wear. But finally, there are punky shoes that are just as artificially grown up as I am.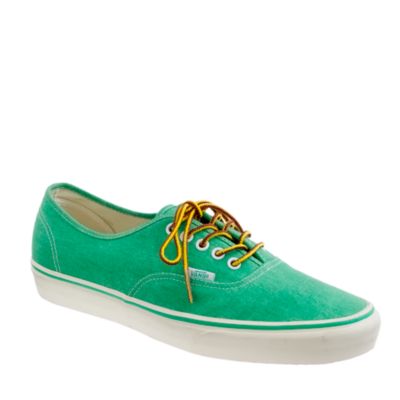 Consider these shoes the comfier, edgier upgrade to your boat shoes. Faded like your favorite chambray button-down and bold like your old school kicks, these J.Crew exclusive Vans are definitely worth buzzing about. They are finished with rugged and durable gold hiking boot shoelaces that give them a cool outdoorsy vibe. The bold, bright hues (like Lava Orange and Turf Green) are perfect for the spring and summer months: they look just as great with rolled up jeans as they do paired with short, flowy dresses. Whether you are off to badminton practice at the country club or just appreciate the stylish comfort of your favorite effortless flats, these shoes are straight up awesome. Basics like white and navy are always great to have in your wardrobe, but I would go with the more vibrant shades if you're getting in on this cool collaboration.
These sneaks come in unisex sizes, so make sure to follow the site's sizing guidelines if you're ordering online! Which colors are YOU drooling over?